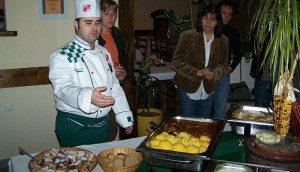 Welcome to Štrigova, rich in beauty and filled with valuable hands and wide friendly hearts of the local people. Convince yourself the unique experience that makes a visit to this area in which will enjoy all your senses so that stay with us will be vacation to your body and blessing to soul!
Gastronomy offers of our region are intertwined with preserved tradition that can be seen at every step and even in the arrangement of our wine cellars. Check traditionally decorated and modern catering facilities that combine traditional cuisine and modern ambience in its offer.
The rich tourist offer of our paradise include restaurants, wine cellars, wine tasting houses, rural tourism, viewpoints, international art colonies, lodging for the night.
Catering facilities / premises

Štrigova 2a | T: +385 40 851 132


Štrigova 32 | T: +385 40 851 449


Železna gora 118 | T: +385 40 851 304


Caffe bar "Na bregu"
Železna gora 131 | T: +385 40 851 233


Štrigova 76 | T: +385 40 851 093


Prekopa 61a | T: +385 40 857 022


Sveti Urban 29 | T: +385 40 830 175


Železna Gora 113 | T: +385 40 857 444


Prekopa 34 | T: +385 40 857 008