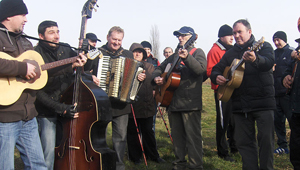 We are especially proud of our St. Vincent's mountaineering. Each year hundreds of participants come from all over Croatia and neighboring Slovenia and Austria for a walk over hills and vineyards. That always becomes a day to remember. Nature, people, customs and traditions of the past become one, united.
It is an old saying that on St. Vincent's day, January 22nd, tenants go into their vineyards just to cut off two or three twigs with three buds. Then they put them in a glass, place it into the window and storage during fall and winter. When vine buds break out, tenants will see how fruitful year it will be.
Our St. Vincent's ceremony always occurs in a vineyard, outdoors. We decorate vines with sausages, we play and dance to call for good fruits. We don't forget our wine cellars in which a droplet of God's drink is served together with traditional dishes.